NOW AVAILABLE FOR DOWNLOAD!
Click here to download the report - No strings attached
BPO Market Trends & Pricing
An exclusive report on the global contact center outsourcing industry
EXCERPT
"The Business Process Outsourcing (BPO) industry has seen tremendous growth in the last year, driven by the need for businesses to streamline operations, reduce costs, and improve efficiency. As the demand for these services continues to increase, the BPO industry is evolving to keep pace with changing customer needs and emerging technologies.
Several key factors have greatly impacted the BPO industry in the last year. Most notably, the United States has encountered a labor shortage, causing a trickle-down impact on foreign outsourcing destinations. As domestic companies find difficulty hiring and retaining agents, they have ..."

Get Important Information You Need to Make Decisions
Download the report to find out important pricing ranges and trends. The image below is included but shows you which region corresponds to each trend and the price ranges.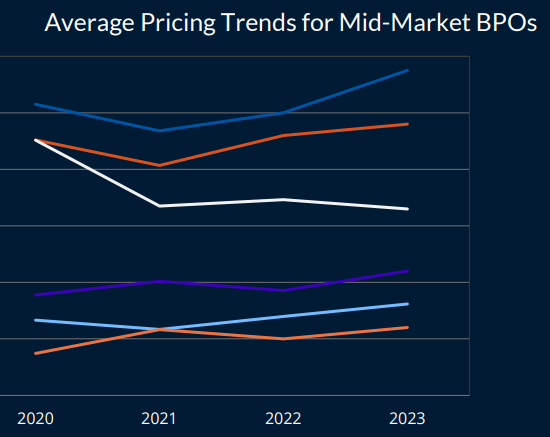 This report contains:
Overview of the global BPO market
Region Report

Price ranges
Pricing trends
Key benefits and potential drawbacks
Trends and outlook

DOWNLOAD
No gimmicks. No asking for your information. Just click the link below to download the report PDF.
If, after you review the report, need assistance or more information on services, please contact us.